Saturday, November 12, 2016
Three Patriots Announce College Choices
Seth Caddell, Zach Martinez and Trent McKay sign national letters of intent
From thepilot.com – Three members of the Pinecrest baseball team signed national letters of intent Wednesday to continue their careers in college.
Seth Caddell verbally committed to East Carolina University in his sophomore season and made it official Wednesday in the media center at Pinecrest in front of family and friends.
Joining Caddell in the signing ceremony were teammates Trent McKay and Zach Martinez. Martinez committed to the College of Charleston while McKay committed to Catawba Valley Community College.
Caddell has been a starter at catcher for the Patriots since his freshman year. Last season, the hard-hitting Caddell led the Patriots in RBIs with 23 and homers with four. He finished the season with a .345 batting average, collecting 30 hits in 87 at-bats. READ MORE.


Wednesday, September 28, 2016
Dates Set For Annual Elite Infielder's Camp
Camp run by Coach Trent Mongero & Coach Hewitt will be held Oct. 22-23, 2016
From pinecresthsbaseball.com – Announcing the 2016 Elite Infielder's Camp! Confirmed today, this years infield camp will be run by Coach Trent Mongero along with Pinecrest Head Coach Jeff Hewitt on Saturday, October 22nd and Sunday, October 23rd at Pinecrest's John W. Williams Field.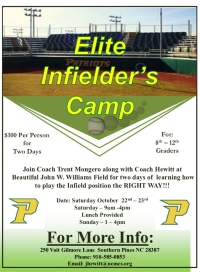 For more information, click on the Elite Infielder's Camp flyer image link above to view or download as a PDF document.


Saturday, July 23, 2016
Pry Named to All-State Team, Commits to UNC
Becomes ninth Patriot player to earn all-state honors during Coach Hewitt's tenure
From thepilot.com – A few days after being named to the 2016 North Carolina Baseball Coaches Association 4A All-State team, rising Pinecrest High School junior Nik Pry made a verbal commitment to join the UNC Tar Heels in 2018.
The Southeastern Conference Player of the Year as a pitcher and outfielder, Pry compiled a record of 9-1 on the mound with an ERA of 1.48. His batting average was .356.
Pry helped the Patriots post a 20-9 record in a season that included a conference tournament title and advancement to the second round of the state playoffs.
A daunting summer schedule so far has included seven showcase tournaments as a member of the Evoshield Canes 16U national team as well as participation in Pinecrest's pre-season football camp held at Appalachian State. READ MORE.


Tuesday, May 24, 2016
Nik Pry Named 2016 SEC Player of the Year
Seth Caddell, Jack Carpenter and Nik Pry earn All-SEC recognition
From thepilot.com – The Pinecrest baseball team celebrated a 2016 season that included 20 wins and a Southeastern Conference tournament title at a banquet held Monday in Fellowship Hall at First Baptist Church of Pinehurst.
The Patriots finished 20-9 after a season that ended 10 days ago with a second-round state 4-A playoff loss to North Davidson that broke an eight-game Patriot winning streak.
Sophomore Nik Pry was named conference player of the year. Teammates Jack Carpenter and Seth Caddell were also selected for the all-conference honor squad. Ricky Young of regular-season conference champion Richmond Senior was named coach of the year.
Patriot head coach Jeff Hewitt talked all season about the chemistry that helped a team that struggled early play its best baseball at the end of the season. READ MORE.


Friday, May 13, 2016
Pinecrest
2
(20 – 9)
North Davidson
12
(24 – 1)
Final/6
Team
1
2
3
4
5
6
7
R
H
E
Pinecrest
0
0
0
1
1
0
x
2
5
1
N.Davidson
2
0
2
1
1
6
x
12
8
0
WP–Johnson LP–McKay
Complete Schedule


TBA
TBA
Visitor
(0 – 0)
Pinecrest
Home
(0 – 0)
Upcoming Games


2016 Southeastern 4A Standings
Overall
Conf.
Team
W
L
W
L
Richmond County
20
8
8
2
Scotland County
16
8
7
3
Pinecrest
20
9
6
4
Purnell Swett
18
8
6
4
Lumberton
10
13
3
7
Hoke County
2
19
0
10
Expanded Standings

2016 Season Statistical Leaders
Stats Through 05/11/2016 (28 Games)
Batting Leaders
Avg
Seth Caddell
.360
H
Nik Pry
32
R
Nik Pry
26
Rbi
Seth Caddell
23
Hr
Seth Caddell
4
Bb
Seth Caddell
13
Pitching Leaders
Era
Kodey Talbott
1.18
So
Nik Pry
93
W
Nik Pry
9
Ip
Nik Pry
71.0
More Team Statistics


Pinecrest High School Baseball